The anti-oxidative components accumulated in the nature. 
Excellent anti-oxidative activity that turns the time backwards. 
How does the Acai berry 90% protecting ampoule have effect on skin? 
1. It prevents ageing by filling 90% of it with acai berry extracts instead of just water. Acai berry is a super food that has high anti-oxidative activity ability, omega-3, 6 and 9 and vitamins, the essential fatty acids for health and low GI. Protects the skin from harm derived from oxygen that destroys skin and speeds up ageing, strengthens the skin's protective layer. 
2. The natural plant extracts oil controls the oil-moisture balance, and the three moisturing ingredients provides skin with the appropriate amount of moisture - leaving skin healthy and moist. 
(i) The miraculous moisturizing effect of trehalose. It has been proven that the large amount of trehalose included in this plani is the reason why Eriko's roses (resurrection plant) are able to stay "dead" after losing 98% of its water during a drought, but regain its vitality when moisture is provided. It is being announced that the trehalose allows dry living things to keep its moisture by storing it, and by protecting its cells. It protects the things within the cell due to the proteins our the outer cell layer and the hydrogen molecules combining, and creating a cell membrane. 
(ii) A well-recognized moisturizer, beta-glucan. It makes your skin moist from the inside out with its high moisturizing ability that is 20% more effective thatn hyaluronic acid. 
(iii) The leader of the 3 major moisturizer, hydrolyzed hyaluronic acid
Supplies nutrition while strengthening the cell wall and remaining moisture with its amazing ability to penetrate skin all since it's made of very light-weight moisturizing element cells. 
Maintenance of moisturizing ability - Manitenance of the right amount of moisture by sucking in the right amount of moisture and keeping moisture from disappearing
Strengthening the skin barrier - The low-weight hyaluronatic acid strengthens the skin barrier by increasing the epidermal thickness
Nutrition supply - Protects skin by acting as a lubricant, and being in charge of delivering skin nutritions
3. Have comleted Europe's ecocert ingredient and the sensitivity tests at the Skin Clinical Research Center, use without a worry since it is a product that has gotten its functionality acknowledged by the Korea Food & Drug Administration. 
Does not include 16 pernicious ingredients that are bad for skin health. 
We promise the innocence and honesty with it is proper ingredients. 
Certificate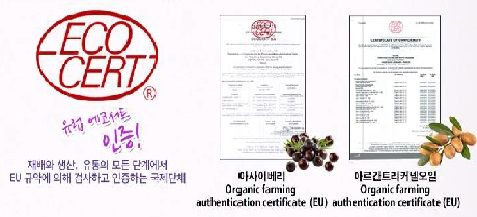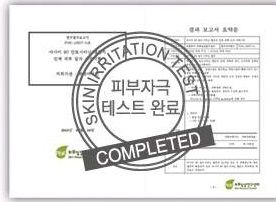 INGREDIENTS