Direct RF emission on the target tissue by Fractional RF thermolysis (Thermal damage by sengmented RF Emission) Selectively degenerate the collagen fiber from superficial dermis to muscle band. Instantly make the collagen fiber shrinking, and regenerate new collagen by the stimulus of fibroblast.
Effective delivery of valid ingredients through the expansion of intercellular route.
What is PINXEL?
Dermatology treatment has long attempted to find the surgical procedure equipment that can realize the merit of INVASIVE treatment effect simultaneously.

As part of this effort, combination of advantages from the treatment principle of MICRONEEDLE STAMP and THERMAGE (known to be epitome of non-operative FACIAL-LIFTING treatment utilizing high frequency) leads to the realization of MFRF(MINIMALY FRACTIONAL RADIO FREQUENCY), new concept of treatment which has been attempted to resolve the various problems of epidermis and dermis.

PINXEL is FRACTIONAL RF system which has embodied the true meaning of new concept, MFRF for the first time in the country and it acts very greatly to reat various lesions of DERMIS that has been believed to be a limit to the laser treatment.
Feature of AES-Fractional RF:
Comparison on Fractional laser and Fractional RF
Bipolar and Monopolar
What about clients· feeling after operated AESLASER?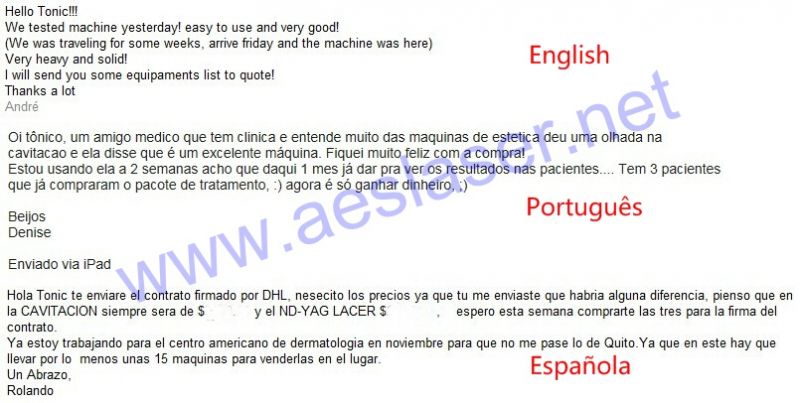 ERS(Energy Reward System) and impedance checking
Microneedle tip and SRR tip for combination treatment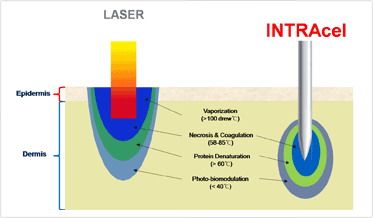 Advantage of insulated needle: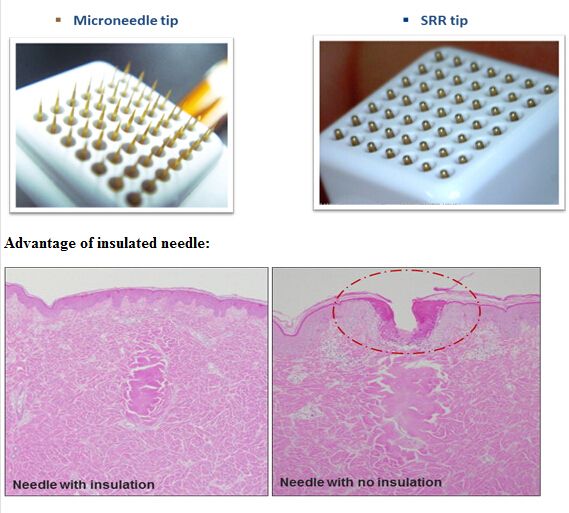 Treatment mechanism of Fractional RF:
Fractional RF microneedle is insulated except 0.3mm of the end of the needle where the RF comes out. Fractional RF is different from the laser because electro energy transforms into thermal energy.

The RF energy from the end of needle transfers energy from its point circle to nearby areas that causes coagulation and denaturalization. During the insertion of Fractional RFneedles to skin, epidermis will get micro holes but will not get a thermal damage while RF energy is emitted. Thus, it could minimize the side effects of pigmentation and others.

Treatment scope:
Wrinkle removal
Facial wrinkle removal
Skin tightening
Skin Resurfacing
Skin rejuvenation
Fine and Coarse wrinkles
Stretch marks removal
Non-Surgical Face lifting
Acne Scars removal
To improve saggy skin, wrinkles, acne scars, large pores and stretch marks.

Before-after-pictures: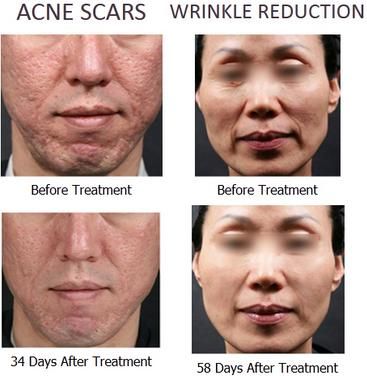 Three Layer Therapy:
Targeting three different target tissue with one single device is attracting both user and patient.
Combination Treatment with Co2 Fractional:

Once RF energy is penetrated into the dermis, column of target tissue in dermis processes to regenerate the skin. After the RF microneedle treatment, CO2 fractional laser is irradiating on epidermal area. Since light energy turns into thermal energy on a skin surface as shown in the picture, the thermal energy spreads and expands its area from the irradiation spot to its circle surroundings. Then, combination treatment of RF microneedle and CO2 fractional is flattening the rough skin.
Specification of AES-FRF83:
| | |
| --- | --- |
| Control System | Microcomputer |
| Operation Interface | 8.4" Colorized Touch Screen |
| Power Voltage | 110/220V; 50/60Hz |
| Needle Depth | 0.5mm, 1mm, 1.5mm |
| Treatment Area | 62mm  |
| Electrode No. | 36 Pins |
| Work Program | CW / Pulse |
| RF | 10 MHz & 50W |