Remove the unwanted hair on all parts of the body:
Such as hairline, lip hair, whiskers, armpit hair, body hair, bikini hair and etc.
Skin rejuvenation;
Vascular removal;
Suit for all kinds of skin;
What about clients` feeling after operated AESLASER?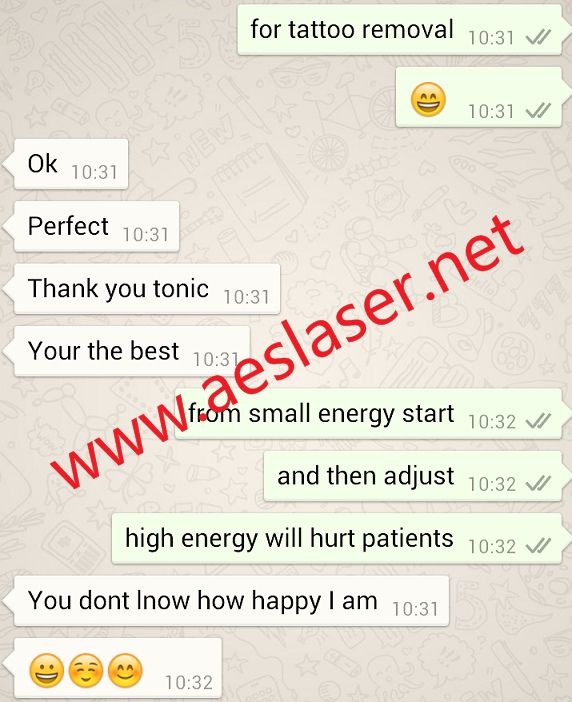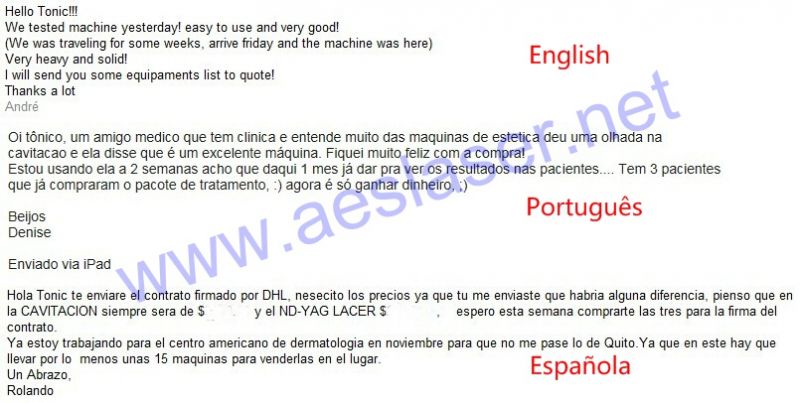 Advantages of AES-HR808(Diode laser+IPL):
♦

Plug-pull can replace the crystal plate of treatment handle according 
to the different treatment need.
♦ The global unique 12*20mm big spot hair removal crystals, it can
save the treatment time, increase the energy output and reduce the
treatment cost.
♦ Permanent remove the hircus, shank-feathering, whiskers and body hair.
♦ Super strong cooling circulatory system (water, wind and Semi-conductor), multiple stalls refrigeration level to meet the different requirements in the treatment, so that the whole course of treatment can be cool and comfortable, truly achieve the freezing point painless hair removal, and assure treatment comfortability as well as security. Meanwhile, this can protect the stability of the instrument for a long time continuous operation.
♦ 10.4 inch touch screen; the humanized designed expert treatment system; Multi-mode intelligent control; Easy setting energy and Accurate positioning of hair make the operation simple and convenient.
♦ The highest 150J/cm output power in the world and 400ms pulse width, which can make sure the best result of permanent hair removal and reduce the pain to the least.
♦ The head can keep working for 20 million flashes, which prove that the high cost efficiency of our machine.
♦

Germany

micro channel cooling technology laser device, the output power can reach to 600W.
♦ A full range of self-test system, predict and detect possible failures and accidents occur.
♦ Modular design for easy debugging maintenance and replacement, saving the cost of after-sale
Specifications(diode laser)
Laser type:Semiconductor laser
wavelength:808 nm
Output Mode:pulse output
Control Method:Touch control
Screen Size:10.4 Inch
Energy density:10-50J/cm2 (Deviation±〖2%)
Pulse width range:1-400ms
Spot size:12*20mm
Frequency:1-10HZ
Light spot surface temperature:0-30←
Cooling System:
Semiconductor+Water+Air Cooling systems
Dimension:500*425*1120mm
Net weight:80kg
Fuse specification:

Ø5×25
Input Power:2000W
Power:AC220V 10A 50HZ , 110V 10A 60HZ
Wavelenth

HR:690nm,SR:560nm,VR:420nm

Discharge time

1-3s

First pulse width

0.1-15.0ms

Sub-pulse width

0.1-15.0ms

Energy density

20-50J/cm2

Simmer time

10-990ms

Supply power mode

AC220V,50HZ AV110V,60HZ

Spot size

HR:16mmX57mm SR/VR:8mmX34mm

Cooling system

Water, Air, semi-conductor cooling

Power

2000W

Security standard

Max 10A

Cooling Temperature

-22 C

°- 

0 C

°