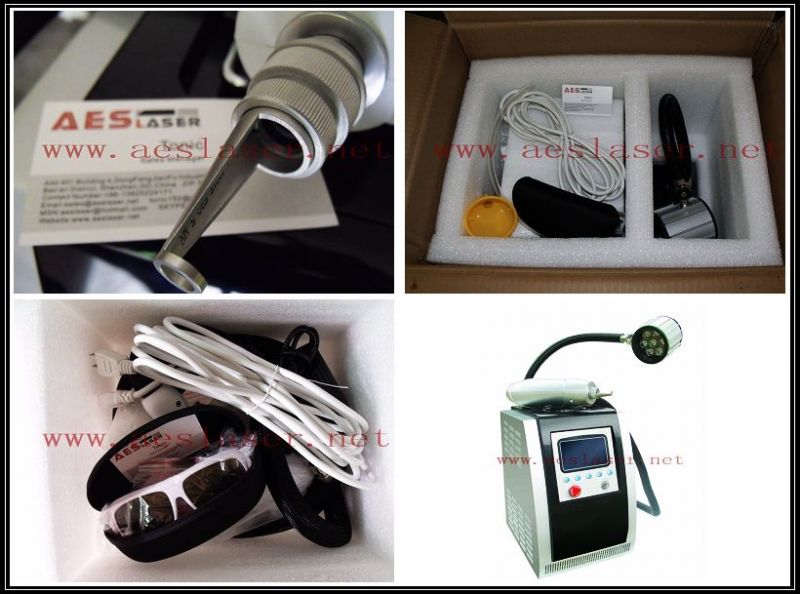 AES-LASER 95
 
Treatment Principle
AES-LASER 95, the laser skin treatment device treatment principle is that using the Laser selective and adjusting Q-principle laser Blasting, making the precise dose of a specific wavelength of energy aim at a particular structor in a very short period of time---colorradical: derma and epidermis of ink, carbon particles and other exogenous and endogenous pigment granules of melanin pigment cells. Pigment be heated suddenly then occur blasting, the pigment was crushed to become smaller fragments, the crushed fragments was phagocytosed by macrophages, with the macrophage cells goes into the lymphatic circulation then pigment is excreted.
 
Work condition
Environment tempreture:10~30℃;
Relative humidity:≤75%;
atmospheric pressure:860~1060hpa;
Power supply:AC220V,50Hz;
Cooling water:deionized water or distilled water
Whole machine functions,
Single pulse energy degree showing and adjusting
Pulse wavelenth showing and adjusting
Pulse frenquency and showing adjusting
Working condition and showing adjusting

Before and After: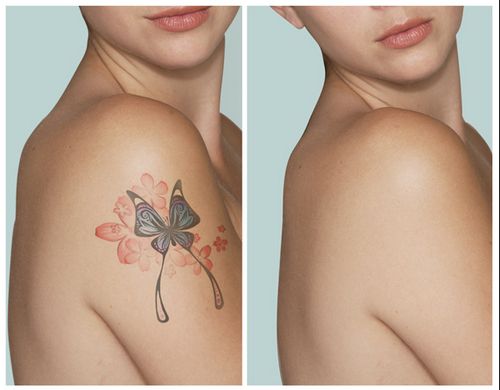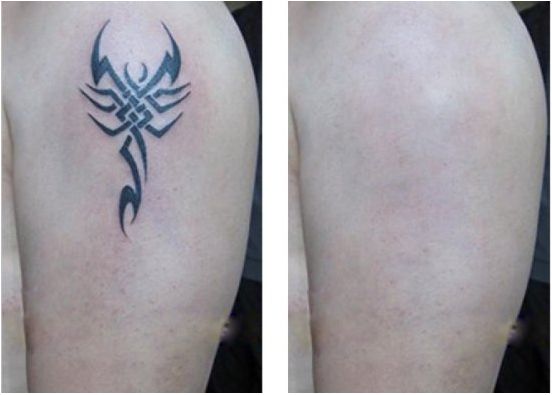 Safety inquiry
1, the electric shock protection: Conforms to GB9706.1-2007 "Medical electrical equipment Part I: General requirements for safety" in the Class B Type I device regulations.
2, Laser Radiation Protection: Conforms to GB7247-2001 "Radiation safety of laser products, equipment classification, requirements and user's guide", the 4 types of medical laser product radiation safetyrequirements.

Indications
1 Indications,
This instrument is mainly used for eliminate some of the clinical exogenous and endogenous skin, blue,black, brown pigment lesions, such as: tattoos, tattoo, nevus of Ota and so on.

2, The treatment interval Two treatment should be about two months apart, so that the pigment particles were crushed have enough time to be absorbed.

3, Number of treatment,
Many cases, the treatment generally required to get better results, the number of specific treatment of patients with the concentration of pigment from the affected area, depth, pigment composition, each treatment using the laser dose, patients with macrophages in vivo absorption of pigment granules and other factors. Generally exogenous pigment treatment to be more than 3 times, 5 times the endogenous pigment to be more satisfactory than the treatment effect obtained a small number of patients with repeated treatment effect is not satisfactory.

 
Contraindications
1. For patients with dark skin, we suggest they take treatments after skin-whitening. Otherwise the skin maybe hurt slightly.
2. After the treatment, the skin will become red and swollen or blood infiltrated, if so, patients can ice the treatment skin or apply some ointment against scar.
3. Some metal ion such as ferric ion will become chemical substance, if so the skin will be darker after treatment. It is not the problem of machine self.
4, after the treatment skin should be kept clean and dry to avoid infection.
5 Postoperative Results boil, should make it off on their own in order to avoid man-induced scars.
6, Repeating treatment is prohibited in the same area, or tissue will be damaged due to heat accumulation.
Application: 
A. Removal endogenous pigment: Nevus of Ota, coffee spot, age pigment, freckle etc.
B. For exogenous pigment: Tattoo of body, eyeline and eyebrow. 
C. Skin whitenning .
D. Remove striae gravidarum.

 
Technical specifications: 
• Laser Type :Q-switched ND:YAG Laser
• Wavelength :1064nm, 532nm
• Pulse Duration :10ns
• Pulse Rate :1-5Hz
• Spot Size :1-6mm continuously adjustable
• Energy :≤180mj(single pulse) ≤800mj(multi-pulse )
• Cooling :Water cooling & Air cooling
• Input Power :420W
• Power Supply : AC220V±10%50Hz AC110V±10%60Hz
• Security Standard : Max 10A
• Dimensions (before packaged) : 400mmX260mmX600mm
• Dimensions (After Packaged) : 520mmX380mmX720mm
• Net Weight : 16KGS
• Gross Weight : 21KGS