2015 Hot Sale!New Designed QY12-60 Block Making Machine
Concrete block machine/brick making machine/block making machine/paver brick machine/interlock curbstone machine/ cement block machine
Machines features and functions:
1. Based on applying the features from the overseas superior manufacturer in the same line,the perfect designing in structures facilitates the cutter to be exchanged,let alone the operating and maintaining.The equipment is tight-fixed and durable with high automation,low even consumption and competitive price based on the quality.
2. Perfect designing,such as,adopting the auto pallets feeding system,material conveying and laying out system,compulsive material disposing system and synchronously pressing and molding system,has made the production recycling automatically with high production output and stable quality.Auto stacking system will enable the equipment to play higher efficiency.
3. Machine,electricity,hydraulic are all combined together and controlled by PLC with the optional locking password to protect the running with safety .Main control table is with computerized operation screener (Chinese menu,LGD touching screener),which can materialize the parameter setting,single collecting along with the machine and breakdown analyzing,thus the machine can keep in the best working status.By long-distance communication can materialize the long-distance monitoring,breakdown seeking and system updating.
4. Being vibrated by the hydraulic-pressure motor,the vibration efficiency is high.The unique vibration device is in the form of linkage incorporate viibration table,which materializes to minimize the gap between all the vibration points in even,thus further guarantee the density of the final products.The compressing and vibration are organic combined to guarantee the density of the products.
5. It is adopting advanced technology to lay the material;when the material laying device reaches to the upper on the mold,the material inside the device will fast and evenly pour into the mold.The material is laid evenly while being molded in a short time.The weight tolerance between each finished product is ±5%,while the intensity tolerance is ±15%.
6. It is wildly used,which can produce standard block,hollow block,lightweight block,road surface block and so on,more specially for volume producing the standard block and the hollow block.
Machines production in customer site: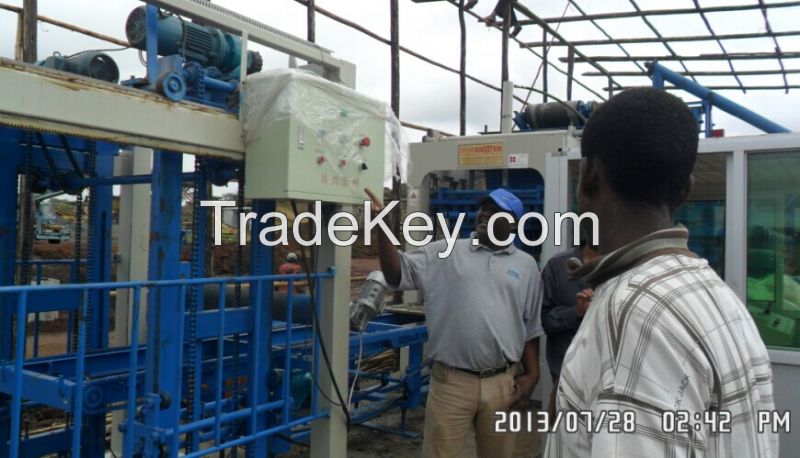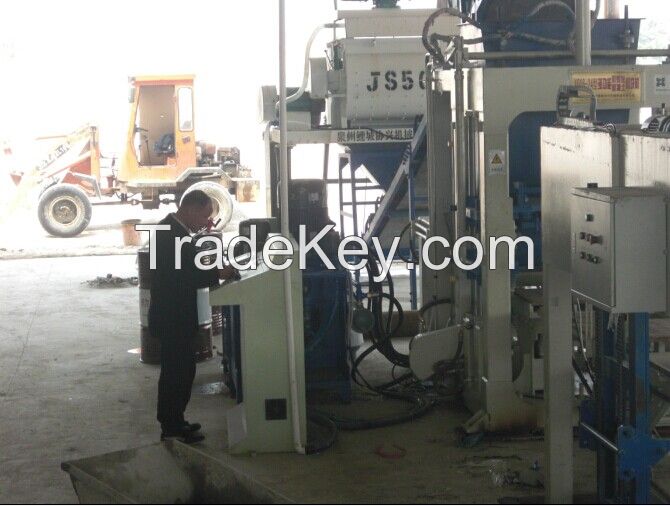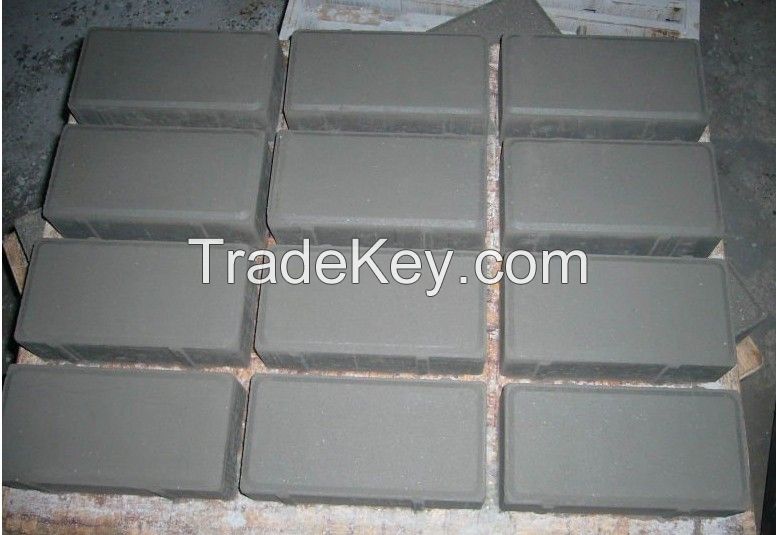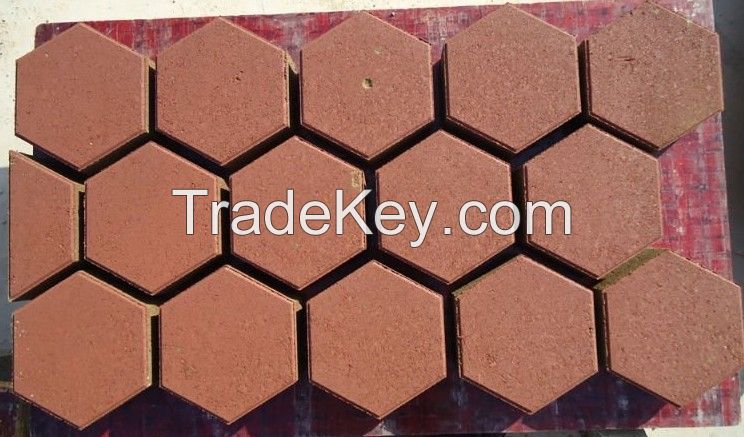 Machines delivery to customers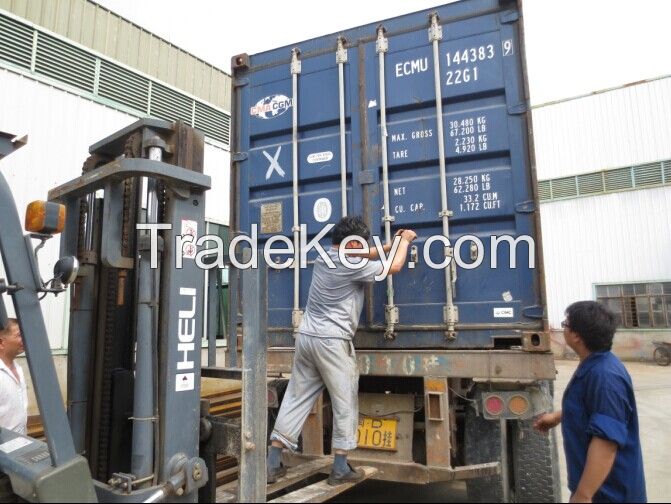 FAQ
1.Can you make brick block mould design for us?
Yes, we have professional team with rich experience of brick block design by CAD software.you only need to tell us brick block size design you want to produce or send us drawing, so that we can customize according to your request.
2.Can you also offer block brick machines for us?
Yes, we can offer semi auto or full automatic of different models of different capacity machines to meet different request of customers.
3.Could your engineer teach and train our worker and stay in our factory for long time?
Yes, we have very large engineer installation team, they can train and teach your worker to operate brick block machine, but you should pay them salary, round tickets and room and dinner and visa charges etc.
4.How about your machine quality, we are worry about the quality?
We are more than 30 years manufacturing experience of different kinds of blocks bricks machines.We strictly manufacture and manage according to IOS9001:2000 System.and can match all the CE standard or more strict standard.our brick machine is running well in more than 30 countries
5.How we visit your factory and what will be the procedure?
Ourcompany located in Quanzhou, FU JIAN province, our nearest airport is JIN JIANG airport, if you take plane, it will need about 1 hours from Guangzhou city, 1.5hours from shanghai and 2 hour from Beijing.We will pick you up from airport as well as the train station.we will take you to see our machine running in our Chinese clients machine cases.Welcome you and your team to visit us at any time!
6.Your machine price is high, is there any discount?
We always provide high quality brick block machines, we are paying more attention to foreign market, as for communication time after sales, also it needs very long time to send new parts.Our brick machines have enough quality standard to make sure the machine can work more than the real warranty period. Our marketing style is quality equal to price, the price will be acceptable for our clients and durable for our machines. Anyhow, when we will negotiate the price with each other during our meeting in factory and try our best to get a good satisfaction.
Why you cose us?  ----  IMPORTANT!!
 1/ PROFESSIONAL EXPERIENCE
2/ RELIABLE QUALITY GUANRANTEED
3/ REASONABLE PRICE BASED ON ITS QUALITY
4/ STABLE PRODUCTION OUTPUT
5/ SPECIAL SERVICE AND IN-TIME SERVICE BEFORE AND AFTER SALES
6/ MATURE TECHNICS UPDATE