Hand Made Damascus Professional kitchen/BBQ knives set with Leather Roll Kit Consist on 4 knives plus one knife sharpener and carrier leather kit. 
1.Knife Sharpener Has Overall Length : 33 cm
2.Biggest Knife Has Overall Length: 35 cm
3.Cleaver Knife Has Overall Length: 29 cm
4.Steak Knife Has Overall Length: 30 cm
5.Pairing Knife Has Overall Length: 22 cm
 Handles made of Black Micarta & Olive & Rose Wood Damascus Twisted with bag to carryOffered by World Points for kitchen, Camping & Hunting knives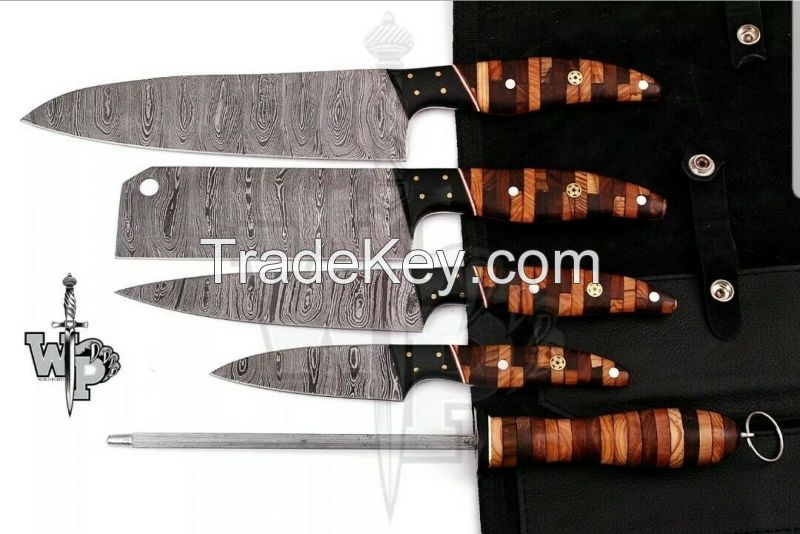 Blade Material: 1095 and 15N20
 HardneSS : 56 to 58 HRC after harding and tempering process.
Blade Finish: Displays Charming Damascus Twist pattern
 
This Hand Made Viking Sword Hand forged.
Blade of this knife has a nice file work and is made 512 layers of stainless steel and high carbon steel with hardness 55-60 HRC . This robust knife is lab tested under intense conditions,; the balance and shape of this knife ensures perfect grip
 
Our Handmade sheath is made of original quality cow leather with finely stitching. Our sheath help you to carry your knife at the belt for outdoor activities, while protecting your fingers and parts of your body that might be in contact with blade. Our beautiful sheath is very an aesthetic object that feels nice in your hands and cow leather smells really good.
1.  NEVER STORE YOUR KNIFE FOR LONG TIME IN LEATHER SHEATH.
2.  LEATHER CAN ABSORB WATER, WHICH WILL RUST THE KNIFE.
3.  ALWAYS CLEAN THE BLADE AFTER USING WITH OIL OR WAX.