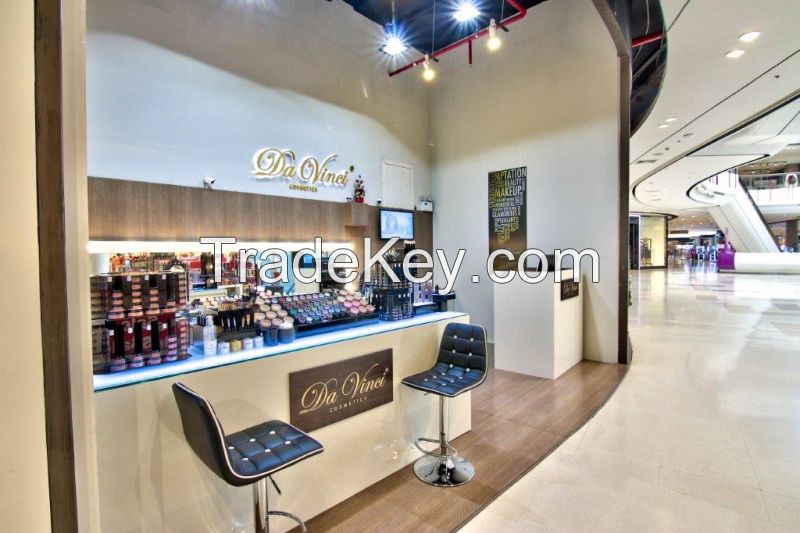 Da Vinci Cosmetics is looking for person that will open Shop of Da Vinci Cosmetics in a country and be our Exclusive Agent. You will represent Da Vinci Cosmetics international. You will be in charge in selling in the country and if someone wants to carry our brand you will be our direct agent to resale as our agent. To have this Exclusivity you need to open kiosk store or shop one of this two and you get our lowest prices. Regular agent does not get any exclusivity and will purchase in wholesale price.
Da Vinci Cosmetics is a brand of natural cosmetics, made in the United States, different and unique, because what Da Vinci offers 100% mineral makeup with a unique and exclusive formula. It is free of chemicals, organic products and will not damage to your skin and our environment. Da Vinci Cosmetics 3 lines produced with the help and research, our dermatologists and chemists to create a 100% natural mineral line and skin care beauty remedies. Da Vinci Cosmetics are made of natural components to provide the best natural products in the world of cosmetics.
Da Vinci Cosmetics Benefit
1- Organic Skin Care Products
2- Dead Sea Skin Care Products
3- Mineral Makeup Products
4- Halal Cosmetics Products
5 Makeup Brushes, individual or set.
6-Oil Free Cosmetics
7- Chemical Free Cosmetics
8- Clinically proven to promote healthier skin
9-No animal testing
10-No allergic reaction
11-Manufacture / Produce in the USA
12-FDA Certify/MSDS Files to export
13- No preservatives / No Additive