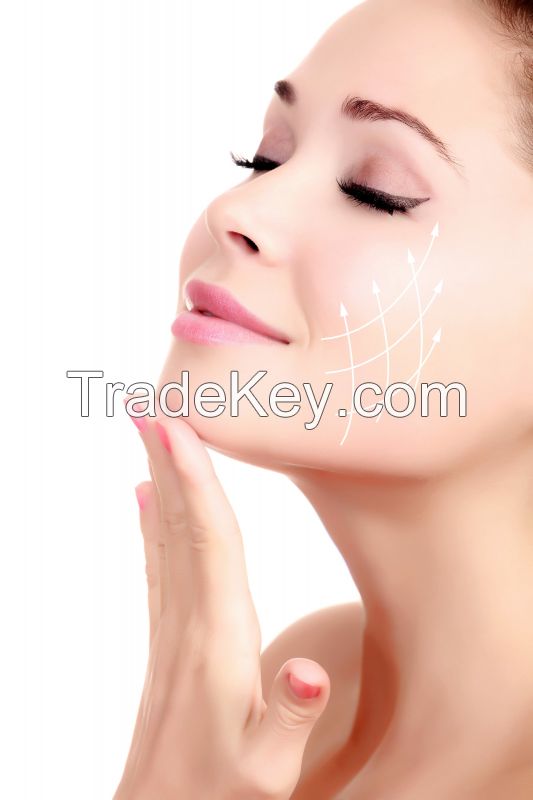 24K gold de-lux wrinkle resist eye/ facial gel 
 
 The ultimate in luxury, these anti-aging eye contour gel patches are infused with pure 24K gold and colloidal gold to help lift and firm the appearance of the delicate eye area . 24K Gold helps firm, lift, brighten and calm the appearance of skin while providing an opulent glow. These lavish and pampering eye gels help to reduce the appearance of fine lines, wrinkles, and crows feet, giving the under-eye area a look of improved firmness. Hyaluronic acid and hydrolyzed collagen deliver intense hydration, while caffeine helps reduce the appearance of puffiness.
Wrinkles, Fine Lines, Spots Can Be Reduced:

To have a clear skin, free from wrinkles & spots is every womans ultimate desire. Gold can activate the basal cells of the skin, which increases the elasticity of the skin. It thus reduces wrinkles, fine lines, blemishes, and marks on the skin, and will make you look younger. 
Stimulates The Skin Cells:

The ions present in gold help in stimulating the cells, nerves, and veins in your body. This leads to improved blood circulation. This will increase the metabolism of skin cells and secretion of the waste. Gold can help to stimulate the cells and have a healthy skin. 
Elasticity Of The Skin Can Be Increased:

Skin tends to sag when its elasticity decreases or is completely lost. Use of gold can reduce the breakdown of elastin and restore the elasticity of the tissues. This will further prevent the skin from sagging. Gold increases the elasticity of the skin, thus making it firm and toned. 
 
Ingredients:
 
Aqua, 24 K gold leaf, Hyaluronic Acid, Hydrolyzed Collagen, Ceramide III, Caffeine, Butylene Glycol, Polysorbate-20, Aloe Vera Extract, Sodium Hydroxide, Disodium EDTA, Bisabolol, Allantoin,  Phenoxyethanol 
 
How to use
 
Day or night- Apply the eye gel,  in a light, circular motion to freshly cleansed and toned eye area with slow motion.
For All Skin Type. 
What else you need to know:
This product is non-toxic, fragrance-free, mineral oil-free, dermatologist and ophthalmologist tested, noncomedogenic, and suitable for all skin types including sensitive.