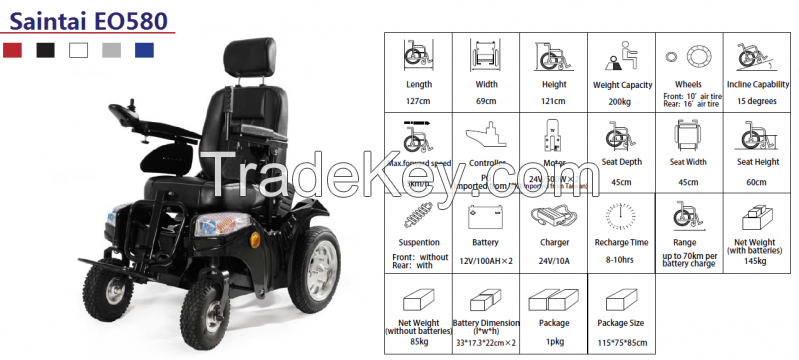 On the basis of traditional manual wheelchair, electric wheelchair is upgraded by adding high-performance power drive device, intelligent control device, battery and other components.
A new generation of intelligent wheelchair with manual control intelligent controller can drive wheelchair to complete forward, backward, steering, standing, lying down, and other functions. It is a high-tech product combining modern precision machinery, intelligent numerical control, engineering mechanics and other fields.
Product characteristics
1. Driven by lithium, it can be recharged repeatedly, small size, light weight, energy saving and environmental protection.
2. Hand-push, hand-shake, electric driving, optional switching
3. Foldable rack, easy to store and transport
4. Intelligent operation control lever, left and right hands can be controlled.
5. Wheelchair armrests are also raised, pedals can be adjusted and disassembled.
6. Use PU solid tire, waterproof breathable cushion backrest, seat belt
7. Five-gear speed regulation, in-situ zero radius 360 degree arbitrary steering
8. Strong climbing ability and anti-backward tail wheel design
9. High safety factor, intelligent electromagnetic brake and manual brake
10. It can stand upright and lie flat. It can walk upright and turn into a reclining chair. The sofa chair is more comfortable.
11. Use the international top gear box two-stage variable speed motor to give wheelchair vehicle sufficient and matching horsepower, more powerful climbing, more durable power
12. Configuring a variety of humanized functions, such as dining table, turning over armrest, double-back seat belt, etc.
Knee Protector, Adjustable Headrest, 40ah Large Capacity Battery.
13. Configuration of anti-forward and anti-backward small wheels, 8 wheels to ensure the use of safety when standing and uphill.
14. Full automation with the latest international top-level control system
15. Five-speed transmission, maximum speed 12KM per hour, 360 degree arbitrary steering (walking around freely).
16. Simple structure, strong power, electromagnetic brake (automatic parking brake, half slope parking)