I. Main technical parameter:
1. Melt ability on the 1st: 40t/d
Fold into glass thickness is 5 mm, Daily output is 
2600 
m

2
2. Product varieties: Colourless transparent glass; 
3. Product specifications: Thickness range 

2- 10mm

;
4. The width of original board of glass: 

2400mm;

 
5. Product quality: Accord with the national standard in the People's Republic of China; 
6. Comprehensive yield: 80%
7. Unit utilization ratios: 97.5%
8. Melts the life-span of the kiln: 4
1. Raw materials
(The qualified powder material enters the factory)
1
.1 Conditions of quality of different raw materials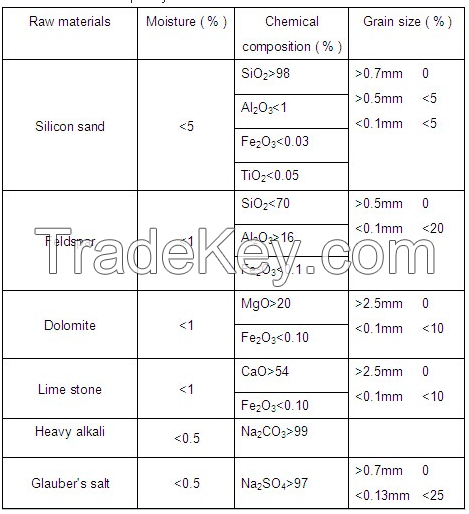 Note: The accurate requirement of different raw materials should be decided after the quality of the raw material is confirmed. 
2. Fuel: Natural gas:
3. Supply power:
3.1 Demands consist of two pieces of independent power, so as to ensure that supplies power incessantly. 
3.2 That enters factory's voltage
:
10KV±5
%
, frequency 50Hz± 1%, supplies power steadily in succession. 
3.3 Supply power in workshop: 
Voltage 380V/220V±10%, frequency 50Hz. 
3.4 The installed capacity of  factories of equipment invites 
:
100KVA; 
Calculate load in normal production: < 60kwh. 
4. Pictures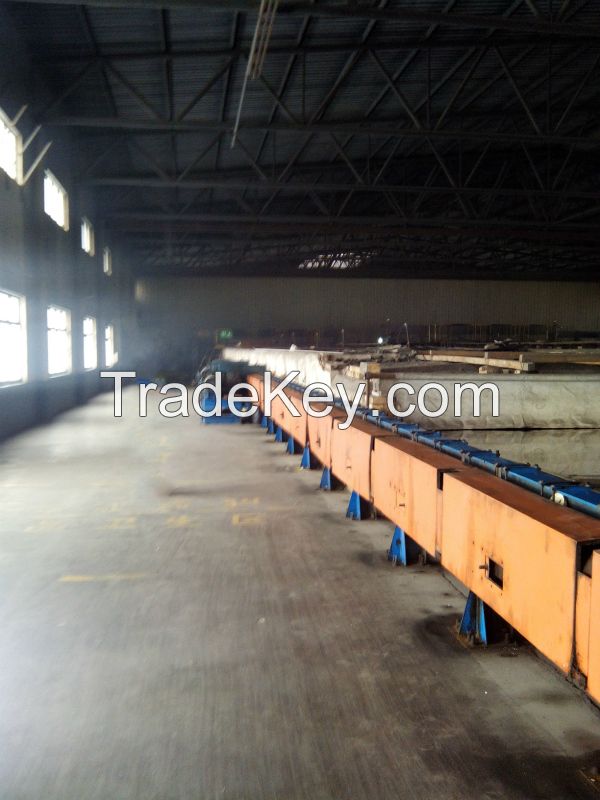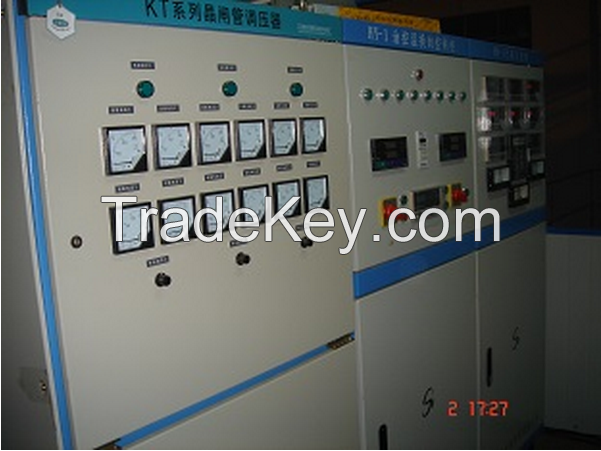 | | |
| --- | --- |
| SN. | Project |
| 1 | Raw materials workshop |
| 2 | Production unites the workshop |
| 2.1 | Melt the section |
| 2.2 | Shaping section |
| 2.3 | Section that anneal |
| 2.4 | Cut and judge the section of the finished product |
| 2.5 | Bits of broken glass system |
| 3 | Affiliated facility |
| 3.1 | Compress the air and stand |
| 3.2 | Circulating water system |
| 3.3 | Laboratory |
| 4 | Support the distribution system |
| 5 | System ofNatural gas |
| 6 | Installation and cold adjustment (cold adjustment is about 120days) |