hot selling lan cable network cable cat6 utp cable
1. Construcation
Conductor 23AWG (0.57+/-0.05mm) Copper
Insulation1.04+/-0.05mm HDPE
Cores / Pairs8/4
RipcordYES
Sheath6.30+/-0.30mm PVC (PE, LSZH)
OptionsJelly compound, UV, FR, RoHS complied is available
2. Mechanical Properties
EnlogationMin. 300%
Temperature range-60 up to +75C
Tensile StrengthMin. 1.68kg/mm2
3. Electrical Properties
Conductor ResistanceMax. 9.38 ohm/100m
Resistance UnbalanceMax. 2%
Insulation ResistanceMin. 150 ohm/KM
Mutual CapacitanceMax. 5600pF/100m
Cpacitance UnbalanceMax. 330pF/100m
Impendance100+/-15 ohm
Spark Test2000V
Velocity Propagation67%
4. Applications:
100Base-T4
100Base-TX
100VG-AnyLAN
1000Base-T (gigabit Ethernet)
155Mbps ATM
622Mbps ATM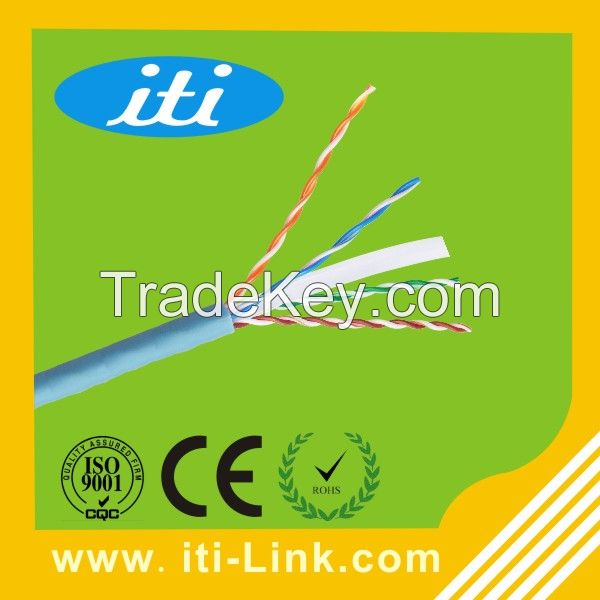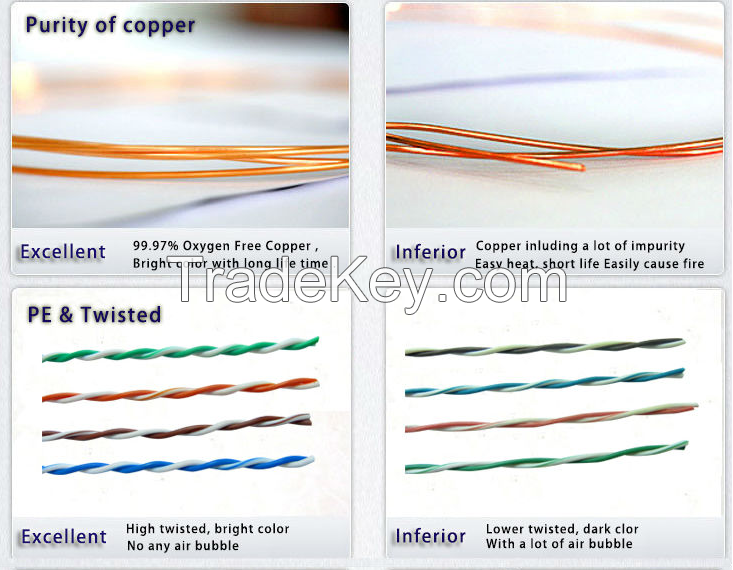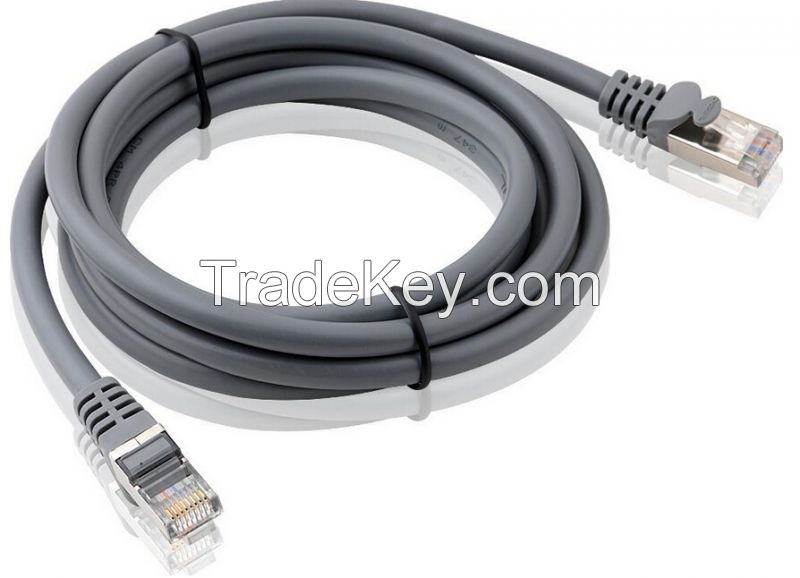 What we can gurantee:
1.Reliable Quality -- 15 years cable experience with exquisite technology. We obtain the profession team in the cable development and advanced. 
2.After-sale service -- We guaranteed with the reliable quality and 5 month after-sale service.
3.Favourable Price -- 1)Our factory located in a production district, which makes the labour cost lower. 2)Long-term raw material suppliers and large purchasing of raw materials , which makes cost lower.
4.Warmly welcome to visit -- 30 minutes far away from the Shenzhen International Airport. We have cars to pick you up and send you back.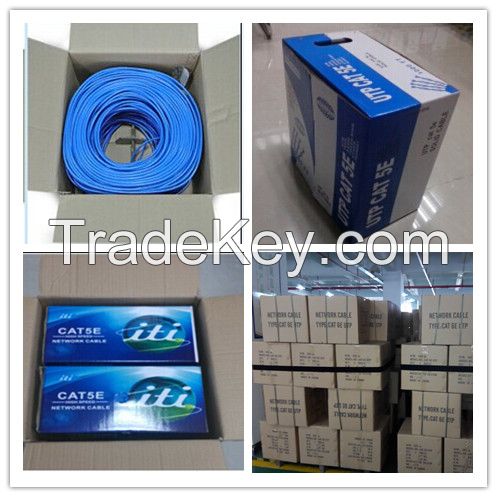 Company Profile: 
1. As modern high-tech manufacturing enterprise integrating research, development, manufacturing and marketing.

2. Mainly produce communication cables, computer peripheral products, integrated cabling products, network attentive products, audio and video cable, optical fiber cable, optical fiber patch cord etc.

3. Integrity (Shenzhen) has been approved by ISO9001:2008 quality management system, TV International Production System Certification, and its products meet the standards of CE and RoHS. 

4. Our factory has not only established a modern production line but also have unique advantages in OEM/ODM.

5. Integrity (Group) is also the indirect supplier of network products for the national stadium (Birds Nest) in the 29th Beijing Olympic Game's opening and closing ceremonies.