Hello I'm Jake Kim the manager at Kailani International.
We are handling Korea Major Cosmetics(Amore Pacific) and facial cleansing brush.
Today, we are recommend to ZOOZOO Cleansing Brush (Manual facial cleansing device).
KAILANI ZooZoo Cleansing Brush Introduce
- Brand-New Item (launching on April, 2016)
- Very low-priced facial cleansing device (hand-operated)
- Body Material: PETG
  It is like a Crystal or Glass, but it is much lighter than Crystal or Glass.
  It is Eco-friendly, safe, and solid material
- Brush: micro-fine brush (0.009mm), Vitamin-C coating, Anti-bacterial
- Light weight: Approx. 60g (include PKG)
- 4 Characters: Owl, Tiger, Monkey, Panda
You can experience skin's elasticity and whitening through a brush with vitamic C.
It can not be broken easily and is Eco friendly product without harmful ingredients. Moreover, it does not contain any endocrine disruptor and harmful substance.
ZooZoo brush body is made with Eco friendly materials by PETG which SK CHEMICAL's specialized technology.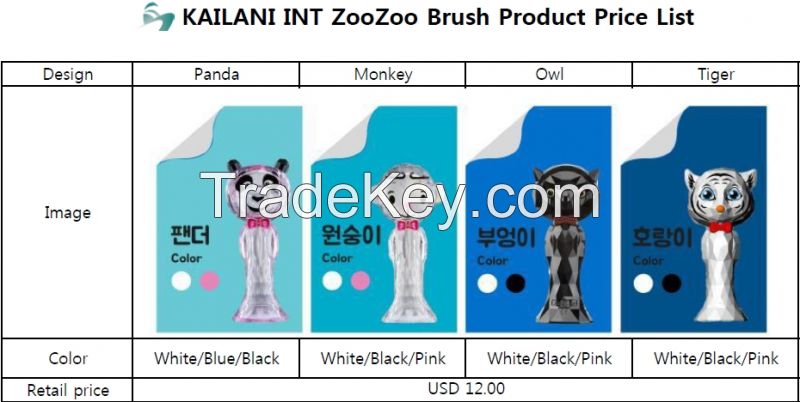 The shipping terms are FOB South Korea by SEA or AIR.
The payment terms are 100% T/T in Advance terms.
Manufacturing Country: Made in South Korea
MOQ: each 100 pce = Total 400 pcs
I'm looking forward to hearing good news from you.
Please let us know if you need any help, I will always help you.
Please contact us if you want to receiver our company profile and product Quotation.
Thanks,
Best regards,
Jake Kim
Manager
Kailani International
Tel: +82-10-8593-0228
E-mail: