Company Information



Bighand Corporation, is established 2012. We imported Dive gears from EU and Taiwan.
We have focused our business with good service. Now We have moved on Korea
World Trade Center and join venture with Liquest International,
LIQUET INTERNATIONAL(Former: Yoo-han T.N.C is established in 1986. We expand our
market for Car accessories first. But We built our network with manufacture
system to serve out customers and keep our service and quality.
Now we have built manufacture system for We have keeping our mind to
develop special technics for supplying products with reasonable price 
within 30 years.
Specially, Car care products on the market were to build a solid phase,and eco-friendly
products. Ideas for the development of a variety of aggressive investment has
been at the forefront of the domestic chemical industry.
Now is the time to jump into the world. The start of a mission to change the LIQUEST
INTERNATIONAL.
Rearranged the existing line-up of own-brand products to market and overseas sales
LIQUEST line construction,
In addition to the home and overseas markets to malls renewal Ready
LIQUESTs priority motto is that serve best quality to give out trust. We have grown our
business with trust. 
We accept OEM and DRUM base either. It will be really appriciated if you request samples. 
Please contact with us in anytime. 
Product Description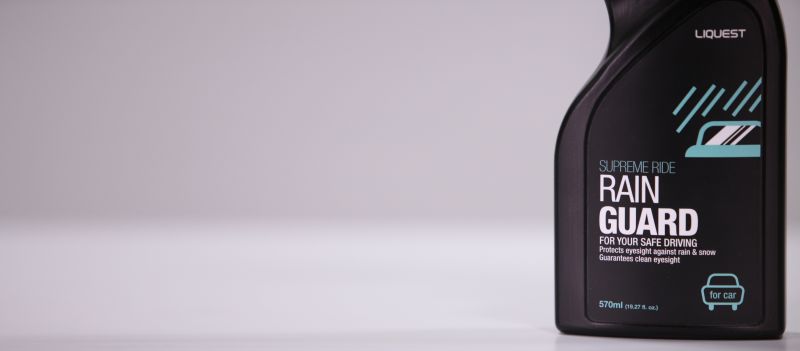 SUPREME RIDE RAIN GUARD
Product No. : C0105

Volume : 570ml (19.27 fl. oz.)

Components : Aminofunctional dimethyl polysiloxane, D-water, etc

ETC : -
​
DRIVE IN SAFE!!
Keep Clean Eyesight Against Raining & Snowing!!
Directions :
Make sure the outside glasses & mirrors is dry.

Rotate nozzle to ON position.

Spray LIQUEST Supreme Ride RAIN GUARD onto the outside glasses & mirrors.

Wait 3~5minutes.

Wipe the glasses & mirrors.