1). Specification: 4P+F+Mylar+AL+B
2). Rated Temperature: -60°C or 75°C
3). Unshielded twisted pairs:
     Conductor: 26AWG or 24AWG Stranding or Solid Bare copper
4). Insulation: HD-PE
5). Filler: PE Cross or FM-PE Thin slice
6). Inner Shielded: AL-Mylar 100%(min) coverage
7). Outer Shielded: 36AWG Tinned copper or AL-MG braid 45%(min) coverage
8). Unrip rope: optional
9). Jacket: PVC or LSZH
10). Impedance:100±15%Ω at 1~250MHz
11). Reference standard: YD/T1019-2001, ISO/IEC11801, ANSI/TIA/EIA-568B, UL 444
12). Print Legend: CM or CMR
Features
1. Seperator inside the Cable Realizes the Stable Transmission of the Data
2. High Quality and Low Cost
3.Fast and Reliable Connection
4.Twisted Pairs with Bright Color for Easy Recognition
5.Ripcord and Footmark for Convenient Use
6.Smooth Jacket for Easy Pulling in Tight Space
7.UTP, FTP, STP Cable are Available
8.Color in Light Grey, Dark Grey, Blue, White or as per Your Requirement
Applications
1.Computer Network Cabling Project.
2.Broadband Network Communication.
3.Digital ISDN Network and ATM 155Mbps Network
4.Ethernet Network
5.Audio and Data Transmission
Packing 
 1000ft(305m)/carton
305m/carton, 2cartons/box  950 carton/20ft container  2100 carton/40HQ
(can design according to customer requirement)
Both OEM and ODM are available.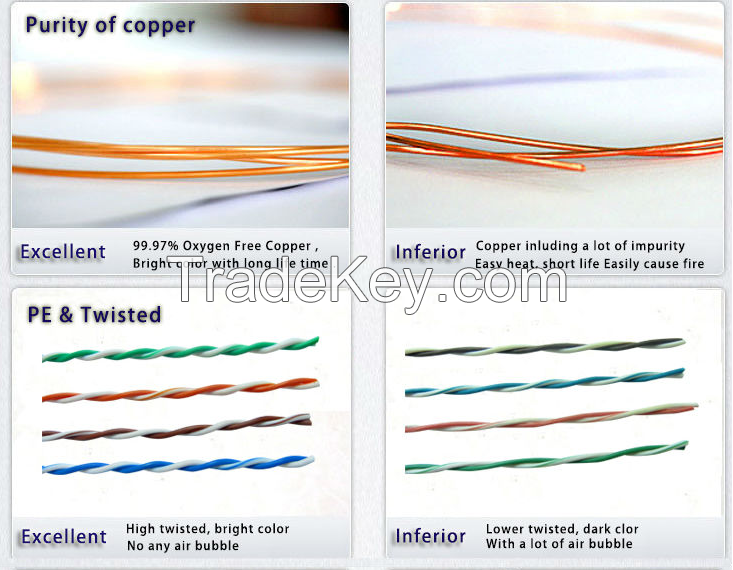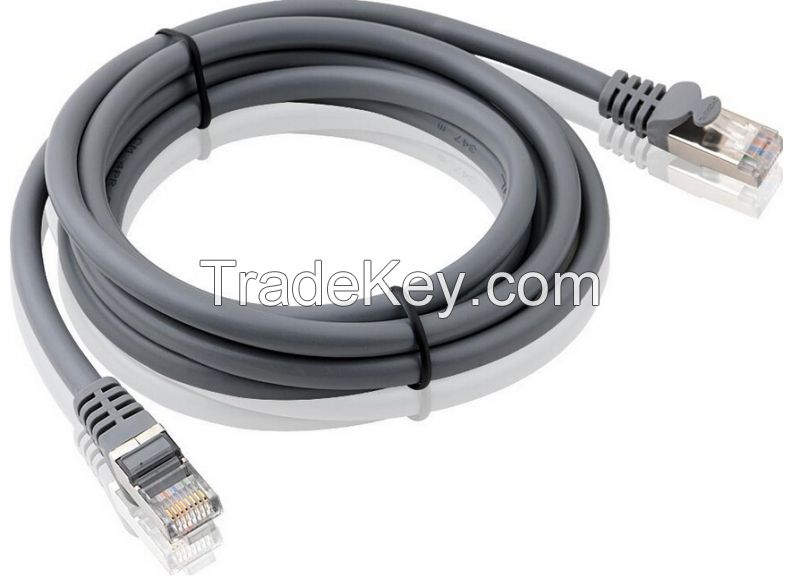 What we can gurantee:

1.Reliable Quality -- 15 years cable experience with exquisite technology. We obtain the profession team in the cable development and advanced. 

2.After-sale service -- We guaranteed with the reliable quality and 5 month after-sale service.

3.Favourable Price -- 1)Our factory located in a production district, which makes the labour cost lower. 2)Long-term raw material suppliers and large purchasing of raw materials , which makes cost lower.

4.Warmly welcome to visit -- 30 minutes far away from the Shenzhen International Airport. We have cars to pick you up and send you back.



Company Profile: 

1. As modern high-tech manufacturing enterprise integrating research, development, manufacturing and marketing.

2. Mainly produce communication cables, computer peripheral products, integrated cabling products, network attentive products, audio and video cable, optical fiber cable, optical fiber patch cord etc.

3. Integrity (Shenzhen) has been approved by ISO9001:2008 quality management system, TV International Production System Certification, and its products meet the standards of CE and RoHS. 

4. Our factory has not only established a modern production line but also have unique advantages in OEM/ODM.

5. Integrity (Group) is also the indirect supplier of network products for the national stadium (Birds Nest) in the 29th Beijing Olympic Game's opening and closing ceremonies.