Product Name:
Nylon Releasable Cable Tie
Product Description:
Description
1) Cable tie is made from nylon 66, the grade most often used for cable tie production, meets UL 94V-2 flammability ratings
2) Working temperature range from 40°F to 185 °F
Features and Benefits
1) Smooth, rounded edges withour cutting insulation or hands and are comfortable to work with.
2) Closely spaced positive-locking teeth allow fine adjustment to tie bundles of all sizes.
3) No metal parts; head and pawl are integrally molded for added strength and durability
4) Self-locking, one-piece, low-profile head conserves space
5) V-shaped raised ridges on bent tip give a sure grip and easy pull-up
6) All Series cable ties have a bent tip for easier pickup, insertion and pull-up.
| | |
| --- | --- |
| Colors | Black and others |
| Length | 100/150/200/250/300/370/430/450/540/710mm |
| Diameter | 2.5/3.6/4.8/7.6/9.0mm |
ITEM NO.
L
W
TENSILE STRENGTH
BUNDLE DIA.
TEMPERATURE
 
INCH
MM
MM
LBF
MM
-40~85°
250-010K
4"
100
3.6
18
2-21
360-015K
6"
150
3.6
40
2-37
360-020K
8"
200
3.6
40
2-54
-40~85°
360-025K
9.8"
250
3.6
40
2-70
480-020K
8"
200
4.8
50
2-54
480-025K
9.8"
250
4.8
50
2-68
-40~85°
480-030K
11.8"
300
4.8
50
2-84
480-037K
14.5"
370
4.8
50
2-106
-40~85°
480-043K
16.9"
430
4.8
50
2-125
760-037K
14.5"
370
7.6
120
3-105
-40~85°
760-045K
17.7"
450
7.6
120
3-130
760-054K
21.3"
540
7.6
120
3-160
-40~85°
900-710K
27.9"
710
9.0
180
6-185
-40~85°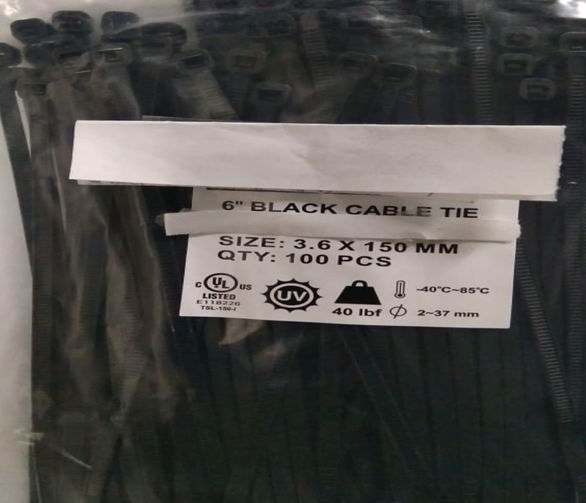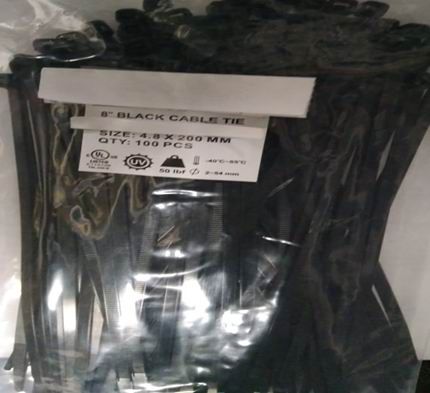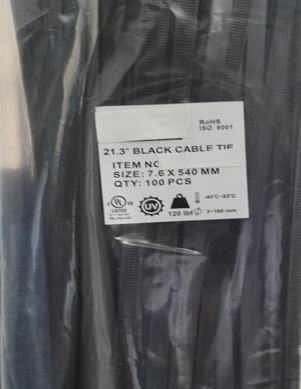 ITEM NO.
L
W
TENSILE STRENGTH
BUNDLE DIA.
TEMPERATURE
 
INCH
MM
MM
LBF
MM
-40~85°
250-010K
4"
100
3.6
18
2-21
360-015K
6"
150
3.6
40
2-37
360-020K
8"
200
3.6
40
2-54
-40~85°
360-025K
9.8"
250
3.6
40
2-70
480-020K
8"
200
4.8
50
2-54
480-025K
9.8"
250
4.8
50
2-68
-40~85°
480-030K
11.8"
300
4.8
50
2-84
480-037K
14.5"
370
4.8
50
2-106
-40~85°
480-043K
16.9"
430
4.8
50
2-125
760-037K
14.5"
370
7.6
120
3-105
-40~85°
760-045K
17.7"
450
7.6
120
3-130
760-054K
21.3"
540
7.6
120
3-160
-40~85°
900-710K
27.9"
710
9.0
180
6-185
-40~85°