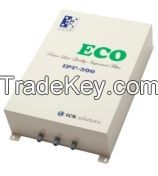 Power Saving Device
 Average
of 5% Saving Rate in total loads
~No  Type       Item Name     Weight      Input Voltage     Capacity    Vendor
 1  Residential
  (small size)    IPF-010          1.3kg       Single phase      10KVA      ICK Solutions
  2   *                 IPF-020          2.3kg       AC 100~600V    20KVA      ICK solutions                 
 3  Industry
 (Big size)       IPF-030           3kg          Three phase        30KVA    ICK solutions
                                                              AC 100~~600V
 4                     IPF-050           5kg                      *               50KVA    ICK solutions
 5                     IPF-100           9kg                      *              100KVA    ICK solutions
 6                     IPF-200          15kg                     *              200KVA    ICK solutions
 7                     IPF-300          20kg                     *              300KVA    ICK solutions
 8                     IPF-500          30kg                     *              500KVA    ICK solutions
~The following product is a power saving device (box)  patented in year 2015, which enables to reduce noise that occur in the Power Line.
It saves up the power consumption to more than average of 9 percent compare now to the same month from last year.
3 years of warranty and follow-up guaranteed after the installation.
 Save Energy and save Electricity bills with IRIS box!
*********************************** Features **************************************
  The Saving rate differs depending on the load however; it can save up to more than 11percent of power consumption in the complex load which combined with inductive loads and resistive loads.
1) Inductive load : more than 11%
  2) Resistive load : 3~4% for lighting, 3% for illumination.
  3) Capacitive load : no power saving
 It is semi-permanent about 10 years or more.
  Our Power Saving Box is approved by CE; Conformity European.
  IRIS provides better price compared to competitors.
  Our biggest model 500KVA unit is 30X47X15cm and 30kg which is much smaller than other existing    energy savers but better efficiency.
 *Also we could customize our biggest model double the size of it (up to1000KVA) or according to your request.*
 MODEL NO.> IPF-030~IPF-500
  INPUT PHASE > Single/3 phase
  INPUT VOLTAGE> 100~600V
  INPUT FREQ > 50~60Hz
  WEIGHT (W*L*H cm) > 9*12*6 ~ 30*47*15
  WEIGHT (kg) > 1.3~30
  CAPACITY (KVA) > 10~500
Most importantly, the reduction of greenhouse gas emission is mandatory now for 195 countries as advanced and developing countries have made Paris agreement in Paris Climate Change Conference on Dec. 13 in 2015.

If you want to learn more about our product, don't hesitate to contact us.
We are now trying to diversify the sales region by searching companies that will play a role as a sole distributor in each country. Since ICK Solutions has just finished R&D and started the manufacture of products, we shall give benefits and time to figure out the reaction of your areas market.

We hope to hear from you soon.