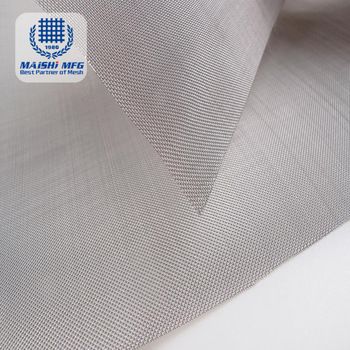 MAISHI can produce wire mesh with the filtration 40 micron, please chose the suitable mesh according to your filtration requirement.
Welcome to contact us if you have inquiry.
Material: 304, 316
Weave Type: Plain weave, Twilled weave, other weave type is also available, such as: Plain dutch weave, Twilled dutch Weave, Reverse dutch weave.
Performance : Corrosion-resisting, Wear-resisting, Tear-resisting, High temperature-resisting,
Uses: Widely used for filtration, such as separation and flitration, extensively used in petroleum, chemical industry, enviroment protection, mine, airspace, paper-making, electronic, metallurgy etc.
Special size and specification are available according to customers requirment.
Except 40 micron filter cloth
Other normal mesh size as follows is also available:
Plain weave: 0.5X0.5mesh to 635X635 mesh;
Twill weave:20x20mesh to 400x400mesh;
Plain dutch weave:10X64mesh to 80X700mesh;
Twill dutch weave:20x250mesh to 400X2800mesh;
Reversed dutch weave: 48x10mesh to 720x150mesh.
Wire diameter: 0.025mm, we can also produce the wire diameter from 0.025mm-1.8mm.
Roll width:0.9144m, 1.0m, 1.22m, also can be customized.
Roll length:30m, 30.5m or at customer request
Our mainly market of wire mesh: Germany, UK, Italy, Turkey, Korea, Thailand, Brazil, Mexico, Argentina, Egypt, Ghana and other parts in the world. 
We have good reputation in the world with the quality and price. You are welcome to send by email or fax your inquiry for trial orders. 
 Weave type:



1. Plain Weave: also called tabby weave, linen weave or taffeta weave, is the most basic type of weaves. In plain weave, the warp and weft are aligned so they form a simple criss-cross pattern. Each weft thread crosses the warp threads by going over one, then under the next, and so on. The next weft thread goes under the warp threads that its neighbor went over, and vice versa.
2. Twill Weave:  In a twill weave, each weft or filling yarn floats across the warp yarns in a progression of interlaces to the right or left,  forming a distinct diagonal line. This diagonal line is also known as a wale. A float is the portion of a yarn that crosses over two or more yarns from the opposite direction.

3. Plain Dutch Weave: similar with plain weave, just the weft and warp wire have different wire diameter and different mesh size.

4. Twill Dutch Weave: similar with twill weave, just the weft and warp wire have different wire diameter and different mesh size.
5. Reversed Dutch Weave:  difference from standard Dutch weave lies in the thicker warp wires and less weft wires.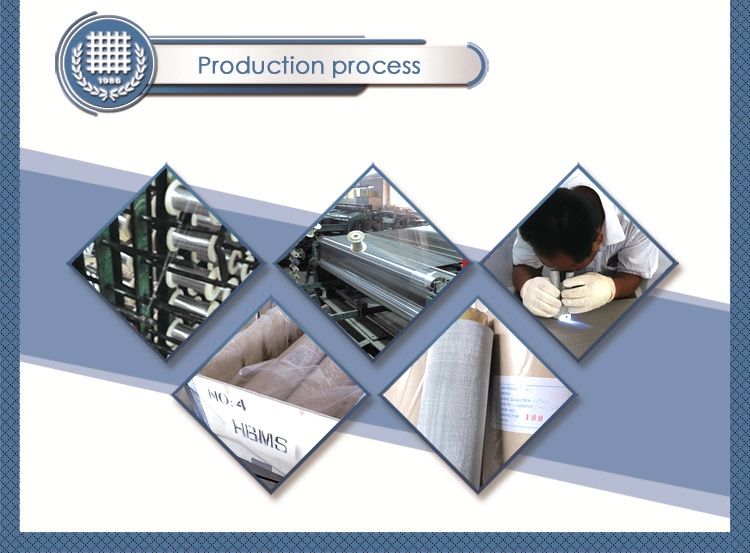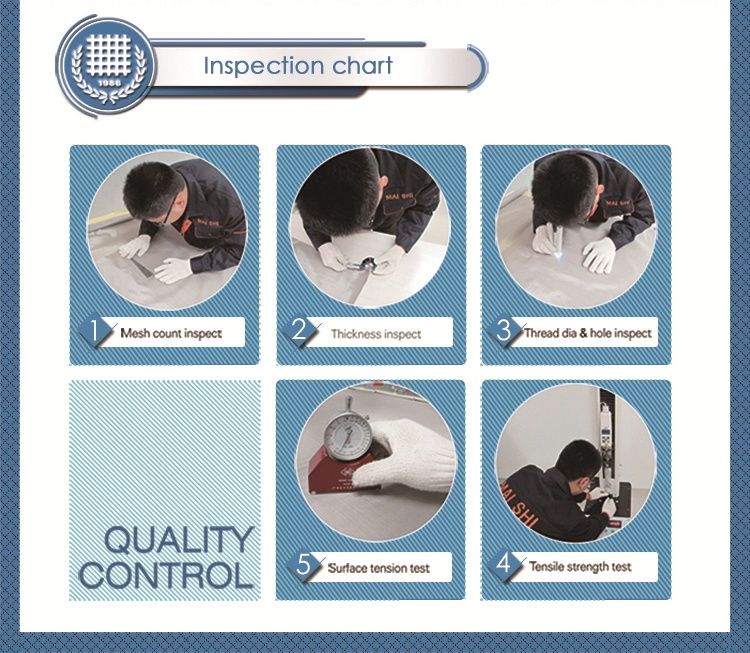 MAISHI make strict test before the goods dispatched from our factory to ensure their quality.Make sure customers get perfect quality40 micron filter cloth.
· Mesh Count inspect
· Thickness inspect
· Thread diameter& Hole size inspect
· Tensile Strength inspect
· Surface Tension test

 
Package of 40 micron filter cloth:
Usually with paper tube inside, then waterproof paper, plastic bag, finally in plywood case or pallet.The package is different according to the specifications. Or as customers' requirement.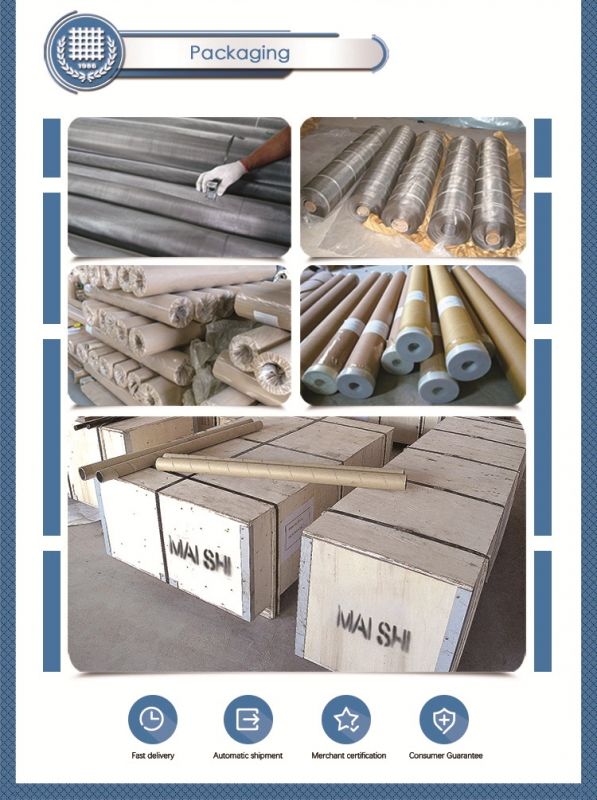 Payment:
· 100%T/T in advance if order amount less thanUSD10000.00,
· 30%paid in advance and 70%paid before shipment if order amount more than USD10000.00.