Cosmetic Grade Triethanolamine 99% ( TEA 99%)
 
Specifications
Cosmetic Grade Triethanolamine TEA 99% 
1.CAS No:102-71-6 
2.Manufacturer with large capacity 
3.Detergents&Surfactants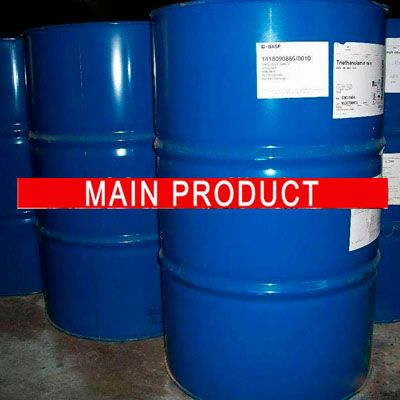 Chemical Name: Triethanolamine(TEA)
Other name: 2,2',2-Nitrilotris(ethanol)
CAS: 102-71-6
EINECS No.: 203-049-8
Formula: C6H15NO3
Molecular Weight: 149.19
Purity: 99% 85%
Appearance: Colourless or yellowish transparent thick liquid
Triethanolamine widely used in hair dye,Colorless transparent thick fluid,Other Names: Tris(2-hydroxypropyl)amine,
As the biggest hair dye raw material supplier and the most professional hair color cream manufacturer in china,Colornow has provided hair dye raw material, pigment ,hair color cream together with technology service for over 50% factories and more than 10 years in China. We also have big share in foreign market .
1;Hair dye raw material
Test proves that our raw material is the same quality as the most famous hair dye raw material supplier in the world jos.h.lowenstein&sons.inc , While price of our raw material is almost half of Lowenstein's.
2: Pigment
There isn't any forbidden composition in the mixed raw material for hair dye, so it isn't harm to scalp. More important is that the coloring is lasting and natural.
3:Hair color base &semi-finished hair color cream
we can provide you hair color cream base together with hair color cream formula.
we produce color creams from the top level quality to the average hair color quality, to the cost effect hair color. Currently we have 3 automatic production lines and 2 semi-automatic production lines with a production capacity of 100,000 tubes per day.
Liquid. Mainly used for surfactants, detergent, stabilizer, preparation for fabric softener , in cosmetics formula with fatty acid neutralization to be soap, also be neutralizers
| | |
| --- | --- |
| Appearance | Colorless Transparent Liquid |
| Place of Origin | China |
| Purity | 85% |
| Acctive Matter | ≥85 |
| Equivalent | 148-150 |
| PH Value | 9-10 |
| Index of refraction | 1.472-1.475 |
| Relative density | 1.120-1.130 |
Packaging & Delivery
| | |
| --- | --- |
| Packaging Detail: | 232kg/Durm |
| Delivery Detail | within 7days after receipt of T/T 30% in advance |