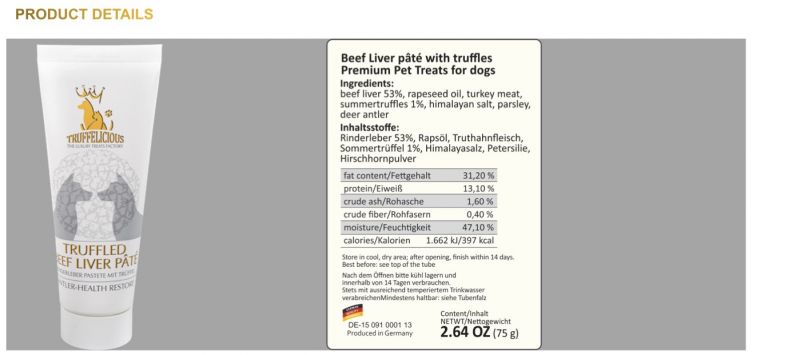 Advantages
ONLY THE BEST INGREDIENTS
 human grade food. With a lot of meat, parsley and real summer truffle thats what all pets like.
WIDE RANGE OF USE 
 for outdoor activities, go gassi, for agility sport no matter where you are, always ready to hand, perfectly dosed and always clean hands.   
MADE IN GERMANY 
 predominantly of regional origin.
FREE OF PRESERVATIVES 
 free of gluten, free from flavor enhancers, free of dyes, free of all of them pets doesnt need.
PERFECT 
for hiding medicines.
WHY WE USE TRUFFLE?
Dogs have a big love for truffle and they are the ideal assistant to find truffle under the earth. Their sense of smell is so strong, so that they can smell our truffle up to 1,2m under earth. 
This natural drive we haven taken to heart and developed an treat, that even cats get pleasure.
The summer truffle we use are from farmers and are processed by a partner company, which specializes in the processing of truffles for 120 years.
Summer truffel are exclusive truffle from Europe, which are characterized by their aromatic taste.
OUR COMPANY
Our company Truffelicious with headquarter in Leipzig and production area in 
Bad Schmiedeberg, Germany is an German manufacturer of Premium pet food with the special feature, that truffles are processed in the products. 
We get our fresh meat purely by meat suppliers from regional surroundings. We get our summer truffle from our partner company, which processed and supplies noblest truffle to meat industry for about 120 years.
Contact us
Tel.: +49 34927 20632
MOB: +49 171 789 1876
Mail: