Two Way Bottle, an essential item for those living in the modern era with the water purification and tumbler function, which is optimized and changed on the basis of the patented technology.

Two Way Bottle highlights ones own lifestyle with minimalized design will enhance the quality of life by offering freedom while safeguarding your health as well as the well-being of the environment.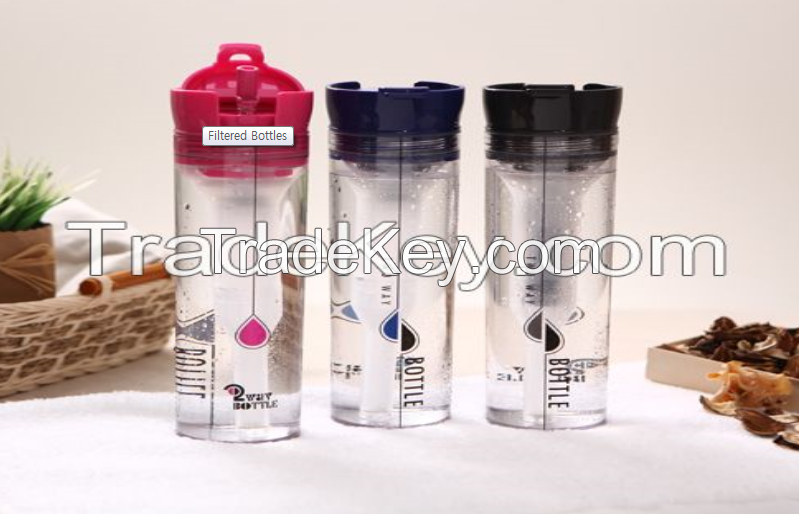 * Free Life proposed by Two Way Bottle
Free yourself from bisphenol A
Free yourself from mineral water bottle and water purifier
Free yourself from disposable paper cup
Free yourself from sportswear



Drink tasteful water anytime, anywhere. Moreover, present well-being to our body and Earth.

Enjoy anytime, where.

Clean and tasteful water is offered by filtering out the chlorine and calcareous substances through the use of carbon filter made of natural substances.

Carry around tasteful tap water and trustful purified water at anytime and anywhere.

Drink with peace of mind.

It is an environmentally friendly product made of ecozen material and does not generate bisphenol A that are frequently detected in plastic water bottles.
It is time to make a choice for the health of you and your family

* Bisphenol A is a carcinogenic environmental hormone designated as hazardous substance by advanced countries including the USA, EU and Canada, etc.

Optimized design for the convenience and maintenance of style of the user.
In the handbag and in your hand! Optimized size that offers freedom at any time.

Shield membrane for which the ordinary beverage could not be absorbed with water purification filter when filter is not being used.

2 way cover that enables drinking of purified water and ordinary beverage.

Inlet that is automatically revealed when the cover is opened.

Activated carbon filter that uses natural material.
1.    An unique WAY to enjoy tea, coffee and other drinks with a stylish tumbler.
2.     Based on patented technology, the 2 WAY BOTTLE combines the functions of a water purifier and a tumbler into one container.
3.     Only filtered water bottle for me! Outdoors, in an office or at a school! A WAY to drink purer and tastier water, and stay healthy and beautiful anytime and anywhere. 
4.     The 2 WAY BOTTLE helps to supplement your body with water in an enjoyable and tasty way. When engaging in various leisure activities, such as camping, cycling, fitness exercising, jogging, and mountain climbing, you wont need to carry a heavy bottle of mineral water with you anymore.    
    The 2 WAY BOTTLE: a convenient water purifier on the go! A must-have item for modern folks!     
    Do you always take a mineral water bottle with you when you wear a gorgeous outdoor
    outfit? From now on, you wont need to! 
5.     Enjoy the same clean taste of water wherever you go!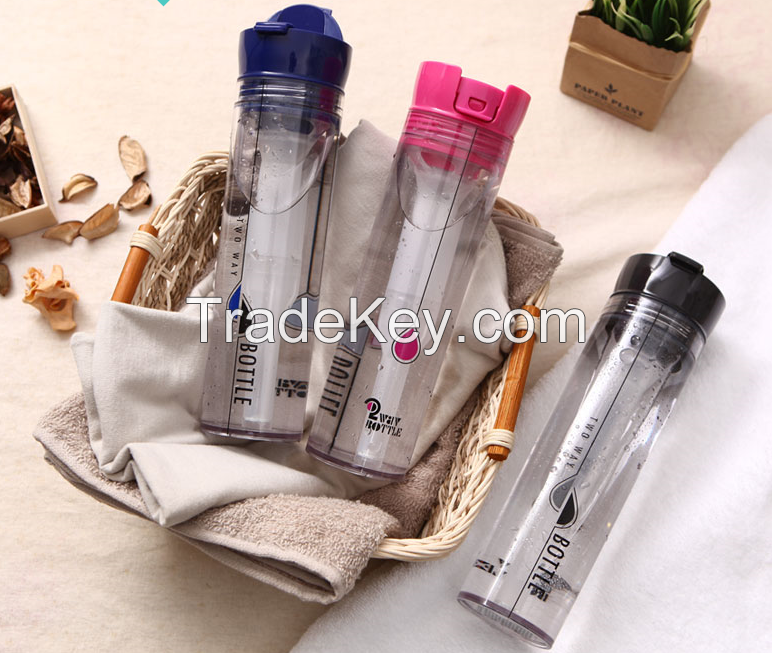 6.     You can enjoy the same clean and tasty taste of water as you do in Korea wherever you go. Did you know that water outside Korea is expensive? Make pleasant memories with the 2 WAY BOTTLE while saving on the cost of buying mineral water. 
7.    Purify water from a water purifier again! Enjoy delicious tap water!
8.     Feel insecure with a water purifier or some mineral water thats been left unattended? Is your tap water smelly with a nasty taste? With this 2 WAY BOTTLE, you can enjoy the same cleanest and tastiest purified water using the same filters used in any other type of water purifier anywhere you go, be it your childs school, parks, amusement fairs or tourist destinations.  
9.     A synthetic resin made of raw materials extracted from plants such as corn and wheat is used. This synthetic resin is heat-resistant and has no detectable endocrine disruptors, such as Bisphenol-A.  
10.   Compared to the costs of purchasing mineral water packaged in non-biodegradable bottles and of maintaining a water purifier, the 2 WAY BOTTLE helps you enjoy hygienic water in an economical way by allowing you to filter water about 570 times with one filter and maintaining water purification function at a low cost.
11.   Using disposable paper cups creates huge piles of waste. The 2 WAY BOTTLE not only can save your health, but also the health of the environment.   
12.   When carrying the 2 WAY BOTTLE, you dont need to wear any sport outfit. Just express your individuality with the 2 WAY BOTTLE as another fashion item.   
 
13.   Freely enjoy tasty water anytime and anywhere. Give health to your body as well as to the Earth. 
14.   This is the only patented product of this kind in the world. This product has passed inspection according to the Water Quality Conservation Act and for the removal of chlorine and organic chemicals. The 2 WAY BOTTLE, a necessity for contemporary people that has combined the function of a water purifier and a tumbler, based on patented technologies.      
15.   The 2 WAY BOTTLE is easy to carry as it comes with a dedicated pouch, so that you can take it with you wherever you go.  
16.   With its tumbler function that matches well with anything inside, this product is a must-have item for people of all ages and both sexes to take with them for outdoor activities. 


17.   With its activated carbon filter made of natural material, this product allows you to drink water in a hygienic way by being able to purify the water anytime and anywhere.  
18.   Combine the filter housing with the filter by pointing the cap of the assembled filter downwards and screw in the filter housing to the products main body.     . 
19.   We recommend you also to buy the 2 WAY BOTTLEs activated carbon filter as a consumable part.   
20.   A must-have item for outdoor activities in all four seasons. The 2 WAY BOTTLE allows you to enjoy healthy and clean water whenever you engage in various leisure sports and outdoor activities, or whenever you simply go out regardless of the season.      
21.   Beautify your skin by filling the 2 WAY BOTTLE with fruits, which are full of vitamins.