| | |
| --- | --- |
| Model | PVC Composite Decking |
| Type | Solid |
| Width | 200 mm, 300 mm, 600 mm, etc |
| Temperature | -40° to 60° |
| Length | Any Length |
| Material | PVC (polyvinyl cloride/PVC) |
| Surface Treatment | Sanding/Embossed/Grooved |
| Color | sandalwood, teak, walnut, cedar (white), cherry (pink), etc. |
| Guarantee | 20 years |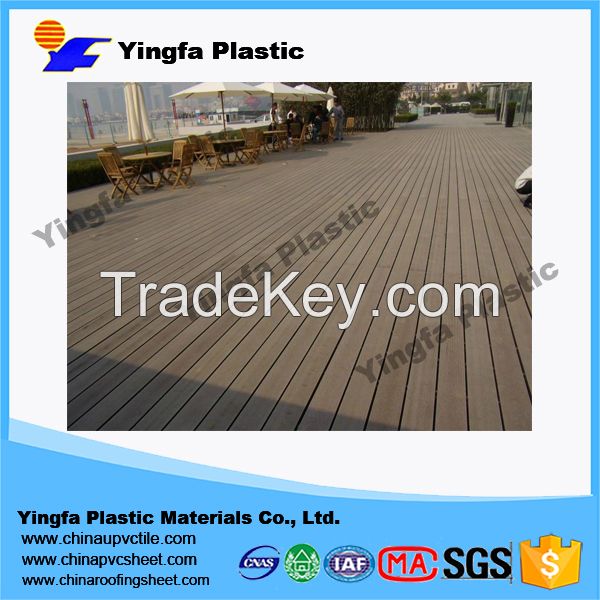 Features
1) highly recyclable, environmental protection, economic resources
2) similar appearance as log; less log problems
3) anti-aging, reduce solar reflection
4) dampproof, waterproof and corrosion-resistant under the circumstance of the brine
5) barefoot friendly,anti-slip,anti-static,anti-UV, less cracking; less deforming
6) paintless, no glue, less maintain, no pollution
7) insects prevention, ants prevention, mildewproof, less rotten
8) six colors available
9) simply, conveniently installed and cleaned
10) Quality guaranteed, guarantee 20 years
 
Technology introduction
Based on the hollow sound insulation structure, Yingfa PVC composite decorative sheet combines the advantages from fiber structure of plants and plastic polymer, which has good elasticity modulus. In addition, due to the mixing of various composite materials, the structure is special. It has better mechanical properties than hardwood such as the compression and bending resistance. The surface hardness is generally 2--5 times of the ordinary wood. It can replace wood and effectively alleviate the shortage of global forest resources and solve the contradiction from the shortage of wood supply. It is not only the enjoyment of life, but also can be  low-carbon, green, renewable and recyclable ecological material. Replacing plastic steel, aluminum alloy / traditional plastics and other similar composite materials, it can be widely used in different applications. It is environmental, economic and biochemical.
Highly Recommend WPC /PVC Plastic Composite Plans House Ceiling Board for Interior Decoration 
Application:
Application Swimming pool, garden, park, lawn,dock,balcony,playground, corridor.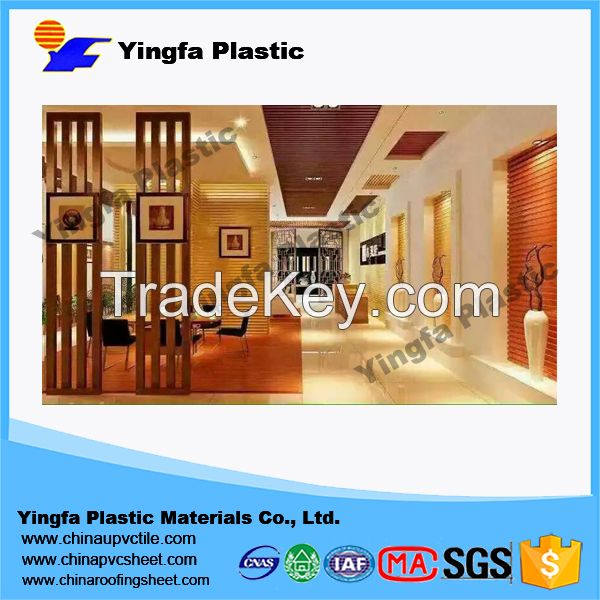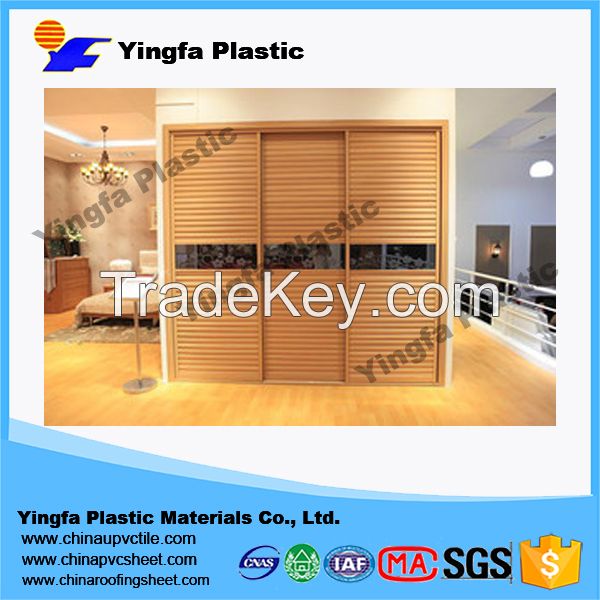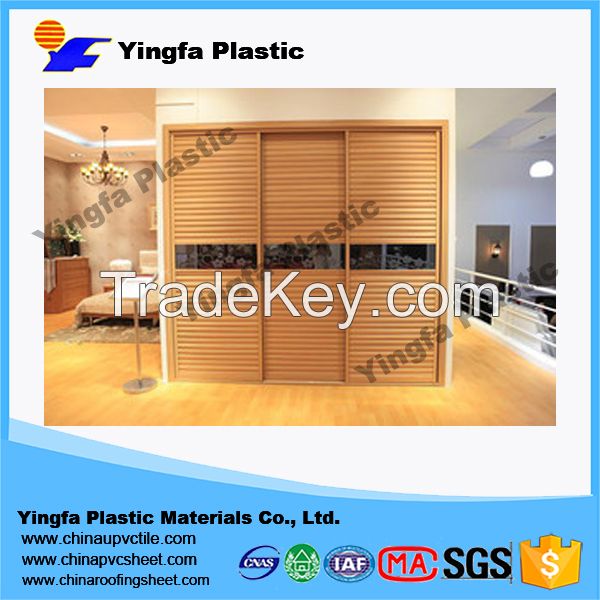 Company's Strength
Foshan Yingfa Plastic Materials Co.,Ltd is a specialized PVC roof tile and PVC foam board production enterprise integrating scientific research and development with its processing manufacturing and sales management. There are 6 extrusion production lines for building material , mainly working in a variety of PVC roof tile producing, including 3 closed workshops. The company possesses perfect laboratories and a professional development and product assurance team that is more than 30 peoples. Through persistent struggling efforts for years in improvement, the company has obtained approvals and support from many well-known upper and lower supply chain companies.
We have production experience for years of the PVC roof tile. We can design the product to meet enquiry of the customers, including various kinds of PVC Heating Insulation Tile, hollow roof tile,ASA Synthetic Resin Tile,FRP Corrugated Lighting Sheet, FRP Silver tile,PVC Wood imitation Furniture Board and etc. The products are sold well in Europe and America, specially some products which get a patents and access to the customers praise for high quality.

 
1. Is Yingfa Roofing sheet warranted?
The professional roofing sheet manufacturer, Yingfa Roofing sheet provide 10~30 years warranty depends on different kinds of products.
2. What are the service ?
The company has been engaged in the export business for nearly 10 years, leading in the same industry in Foshan. very convenience because of the neighbouring ports(Foshan/Guangzhou/Shenzhen). 
Another ,we have our own technical team and keep introducing and promoting new products to help customers keep the market.
3. How is the credit of Yingfa ?
Good credit, the company's credit guarantee ranks high in the same industry on alibaba. a single transaction, even alibaba company guarantees $ 118,000 per shipment. Customers are in double protection.
4.What kind of structure frame can support the plastic roof tile?
Yingfa Roofing sheet can be install in the wooden structure and steel structure frame.
5. Does Yingfa Roofing sheet test via international testing company?
All Yingfa products have already tested from famous international testing company-SGS to make sure the high quality products. Plastic PVC Skirting Board
6. Which countries is the most popular for Yingfa Roofing Sheet?
As Yingfa Roofing Sheet have good heat insulation, excellent anti-corrosion, long life time,Excellent Acid alkaline, non - cracking, windproof ,Health and mothproof ,So our product are selling well in Middle East /Europe and Latin America market.