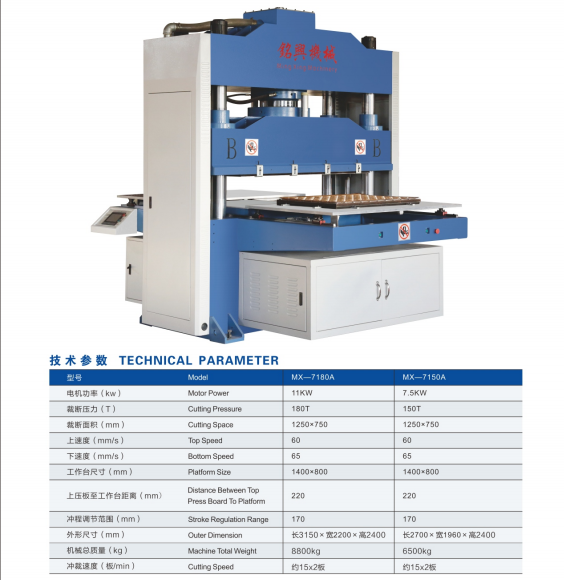 M X- 7180A   Full plate blanking bilateral feeding cutter
It adopts PLC computer control, touch screen type displayer, easy in operation and convenient.
* 
Large tonnage, large area
, 
it 
is suitable for full sheet blanking of suction plastic products
, 
to solve the traditional small tonnage presses a
cut
defects
, 
saving t
i
me and 
increasing 
the yield.
* 
Feeding system adopts servo motor transmission, high speed, accura
t
e 
in 
delivery, 
especially 
suitable for accuracy 
requirement 
of 
t
op/bottom mould
, 
solving the traditional manual moving mould, saving time and improving production efficiency.
*
Hydraulic system adopts high pressure oil pump control
, 
soft pressure. It is capable for stainless steel plate blanking, solving nylon plate blanking of products, which causes secondary pollution and waste
, 
improving 
the 
cleanliness of products, reducing material waste, improving the rate of qualified products. The system solves 
the 
defects of traditional mechanical damage and waste of violent punching the knife die, prolonging the service 
life 
of d
i
e cutter, cost-saving 
in 
knife mould.
* Bilateral automatic sheet feed
i
ng system, it 
is 
capable 
to 
blank different heights of products 
from 
both sides
. 
The machine
i
s operated by two persons, dual-use, cost-effective, saving the workshop space and improving 
the 
yield.

MORE OTHER CUTTING MACHINES. For details, please refer to the attached brochure.
Mx-760b Transmission Type Automatic Mould Stripping Cutting Machine