The 3 moisturizing components, trehalose, bta-glucan and hydrolyzed hyaluronic acid provide moisture on skin and the niacin amide and adenosine contents help improving wrinkles on the skin. In addition, the cream is for all types of skin and does not contain 17 harmful additives, It is main ingredient is acai berry from Amazon (70%), which strengthens the skin layer with excellent anti-oxidative activity.


Certificate: Skin irritation test completed + Eco-cert/Organic certification + Functionality + Certification from Korea Food&Drug Administrationimage




Ingredients: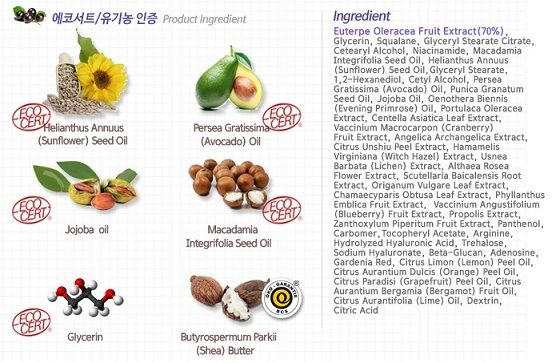 Acai berry's ability
The anti-oxidative components accumulated in the nature. Excellent anti-oxidative activity that turns the time backwards. Acai berry is a super food that has high anti-oxidative activity, omega-3, 6 and 9 and vitamins, the essential fatty acids for health and low GI. What is anti-oxidative activity of acai berry? It is the activity that prevents oxidation of substances. It is the process of suppressing the active oxygen inside our body to rejuvenate the body and skin. There are various different anti-oxidative substances including vitamin C, the most well-known, and most of all, anthocyanin is the most stable and effective anti-oxidative substance. There are 3 major moisturizing effects of acai berry. Firstly, the secret of cactus that survive in suffocatingly dried deserts. The excellent moisture capturing ability of trehalose! Cactus hace disaccharide moisture tank called trehalose. When applied on skin, trehalose creastes a layer to protect the skin, to prevent moisture from escaping and to keep skin most. Secondly, Beta-glucan one of the 3 major moisturizer that was introduced as a substance with 20% stronger moisturizing effect than hyaluronic acid. Beta-glucan is extracted from mushrooms and yeasts and is widely used in foods and cosmetics products. It is moisturizing ability is 20% stronger than that of hyaluronic acid and it penetrates deeply inside skin to make it moist from deep inside. Hyaluronic acid can be said to be the most excellent moistuzing substance. Hyaluronic acid is the most excellent moisturizer that is frequently used in cosmetic products for it is excellent moisturzing effect and texture. It plays a critical role in maintainin and controlling the moisture inside cells.
 
Who needs ACAI BERRY 70 PROTECTING CREAM

 
1. There is no gloss on the face and looks tired all the time
2. There are noticeable fine wrinkles around the eyes
3. There is a lack of moisture and oil on skin
4. Remaining dead skin cells make make-ups not fully absorbed
5. The skin tone is dull and there is a lack of elasticity
6. The skin is dried and rough